Originally conceived as durable workwear in the late 19th century, the denim jacket has weathered the waves of fashion trends to emerge as an essential and versatile staple in wardrobes worldwide.
Beyond its timeless appeal, the denim jacket offers endless styling possibilities. In this article, we're exploring 10 innovative ways to weave the denim jacket into your sartorial repertoire.
The transformation of the denim jacket from utilitarian workwear to a fashion must-have is a testament to its adaptability and universal appeal.
Embraced by subcultures, celebrities, and fashion enthusiasts alike, the denim jacket transcends age, gender, and style boundaries. It can serve as the centrepiece of an outfit, a complementary layer, or a stylish utility piece, proving its unmatched versatility.
Creative Ways to Style Your Denim Jacket
1. Denim on Denim:
Courting the 'Canadian Tuxedo' look demands balance and a keen eye for detail. Mix different washes to avoid a monotonous ensemble; for instance, pair a light-wash denim jacket with dark-wash jeans.
Breaking up the denim with a neutral shirt or bright accessories can add depth and visual interest to your outfit.
2. Over a Dress:
A denim jacket brings a delightful contrast to feminine dresses, injecting a casual, edgy vibe.
Whether you're donning a delicate floral sundress or a chic midi dress, a denim jacket adds dimension and a casual twist. Cinch it at the waist for a flattering silhouette, or leave it open for an effortless laid-back look.
3. Layered with Knitwear:
In the colder months, layer your denim jacket over chunky knitwear for a cozy yet fashion-forward outfit. The texture of the knit offers a fascinating contrast to the rugged denim.
Add a colorful scarf for a pop of color, and pair with leather boots to complete the look.
4. With Tailored Trousers:
Blend the relaxed vibe of a denim jacket with the structure of tailored trousers for a sophisticated yet approachable outfit.
This fusion of casual and formal is perfect for transitional looks – think casual Fridays or smart-casual events. Enhance this outfit with a pair of sleek loafers and a minimalistic handbag.
5. As a Shirt:
Challenge traditional fashion norms by donning your denim jacket as a shirt. Button it up, tuck it into high-waisted pants, and cinch with a statement belt. The result? A chic, denim-centric outfit that's far from basic.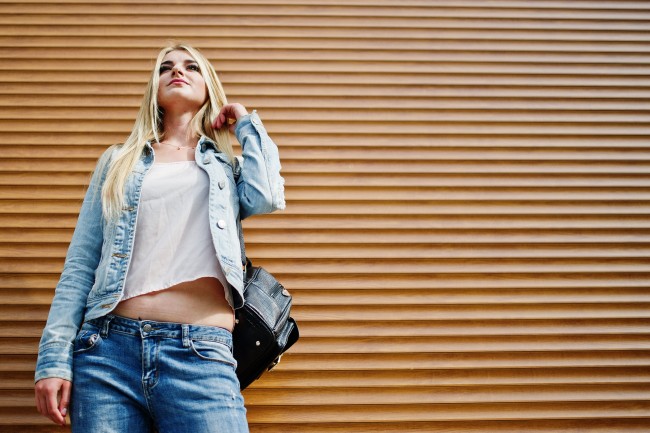 6. With Athleisure:
Pair your denim jacket with athletic wear to create a sporty-chic ensemble that doesn't compromise comfort for style.
Layer it over a graphic tee and leggings or joggers, finishing the look with a pair of trendy sneakers. It's an ideal ensemble for running errands or a casual brunch date.
7. Over a Maxi Dress:
Transform your flowy maxi dress with the structure of a denim jacket. The combination is a fashion match made in heaven, offering a balance of soft femininity and cool casualness.
Add strappy sandals in summer, or ankle boots in cooler weather, to adapt the look for any season.
8. Paired with Leather:
Embrace your inner rockstar by teaming your denim jacket with leather. The combination of a rugged denim jacket and sleek leather pants strikes a balance between soft and hard, casual and edgy.
Complete the outfit with a pair of ankle boots and statement accessories for a look that screams confidence and style.
9. Boho Style:
Fuse your denim jacket with bohemian elements for a laid-back, festival-ready outfit.
Combine your jacket with a floaty skirt, a crochet top, or lace dress, and layer with plenty of boho-inspired accessories like fringed bags, feather earrings, or a wide-brimmed hat. The resulting look is a chic blend of bohemian whimsy and modern edge.
10. Preppy Look:
Channel a preppy vibe by wearing your denim jacket over a crisp collared shirt, paired with chinos or a pleated skirt. Complete the look with loafers or ballet flats, and perhaps a pair of classy pearl earrings.
The denim jacket adds a modern twist to the traditional preppy style, making it fresh and contemporary.
Styling Tips and Tricks
As you navigate these styling suggestions, remember that the fit and shade of your denim jacket can significantly impact your overall look.
A well-fitted jacket can flatter your figure, whereas a loose or oversized one can add a trendy, streetwear-inspired vibe.
Similarly, the shade of your denim can set the tone for your outfit. Lighter shades typically lend a more casual, laid-back feel, while darker shades can provide a more polished or formal appearance.
Accessories, too, play a crucial role in enhancing these denim jacket ensembles. A statement belt, chunky jewelry, or a vibrant scarf can elevate your look and add a personal touch.
Footwear also carries the potential to transform your outfit—sneakers can keep it casual, boots add an edge, and heels dress it up.
Conclusion
A denim jacket is more than just a wardrobe staple; it's a canvas for personal expression. Its enduring appeal and adaptability allow it to meld with a range of styles, occasions, and trends. Whether you're donning denim on denim or pairing it with a maxi dress, the styling possibilities are endless.
We hope these suggestions inspire you to view your denim jacket in a new light and experiment with different combinations. Remember, fashion is all about personal expression, so don't be afraid to break the rules and create a look that is uniquely yours.