Every summer, Switzerland springs to life, offering a wealth of experiences for all types of travelers. Its picturesque landscapes, alpine beauty, and urban sophistication blend seamlessly, creating a vibrant mix of leisure and adventure.
A quintessential summer destination, Switzerland captivates with its stunning vistas, refreshing lakes, green meadows, and an abundance of historical landmarks and cultural festivals. Here in this article, we will discuss the 12 best places to visit in Switzerland in summer.
From the adrenaline-pumping activities in Interlaken to the serene beauty of Lake Geneva, these destinations provide unique experiences that will make your Swiss summer adventure unforgettable.
Places to Visit in Switzerland in Summer
1. Zurich
Zurich is Switzerland's largest city and a global center for banking and finance. Despite being a bustling metropolis, Zurich is also known for its beautiful landscapes and recreational spots that come to life during the summer months.
One of the city's major highlights is Lake Zurich. With its clean, clear waters, it is an inviting place to cool down in the summer.
Visitors can take a refreshing dip, rent a boat for a serene ride, or simply take a leisurely walk along the lake's promenade. The stunning views of the snow-capped Alps in the distance add to the charm of this urban retreat.
The historic center of Zurich, known as Altstadt, is another reason to visit. Wander the narrow, winding streets lined with medieval buildings, boutique shops, and delightful cafes.
Key attractions include the iconic Grossmünster Church, Fraumünster Church with its beautiful stained glass, and the vibrant Rathaus, Zurich's Town Hall.
The Swiss National Museum, housed in a fairytale castle-like building, offers a profound insight into the cultural history of the country. It boasts a vast collection of artifacts, from prehistoric times to the present day, providing a deep understanding of Swiss heritage and traditions.
2. Zermatt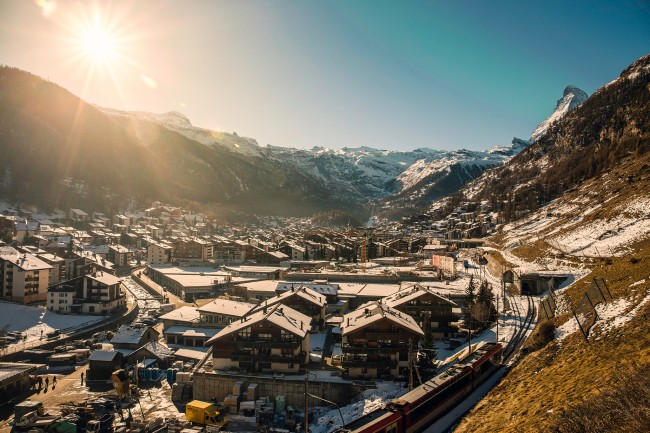 Tucked in the shadow of the magnificent Matterhorn, Zermatt is a car-free village that embraces nature and offers an array of outdoor activities.
A prime reason to visit Zermatt is, of course, the Matterhorn itself. The iconic mountain looms over the village, its pyramid-shaped peak being one of the most photographed sights in the world.
Adventurous travelers can take a cable car ride to the peak for a mesmerizing panorama of the Swiss Alps. For a less daring but equally rewarding experience, a trip to the Gornergrat Observatory gives unparalleled views of the Matterhorn.
Another reason to visit Zermatt in the summer is for the extensive hiking opportunities. The area boasts over 400 km of hiking trails, ranging from easy walks to challenging treks.
These paths wind through alpine meadows, mountain lakes, and dense forests, offering a perfect escape for nature enthusiasts.
The Gornergrat Railway, a cogwheel train, provides an unforgettable journey through Zermatt's stunning landscapes. As you ascend to the summit, you are treated to breathtaking views of 29 mountains, all above 4000 meters.
3. Lausanne
Perched on the shores of Lake Geneva, Lausanne is a vibrant city known for its cultural richness and beautiful landscapes.
Lake Geneva is central to summer activities in Lausanne. The sparkling waters, bordered by well-manicured parks and gardens, provide ample opportunities for water sports, picnics, and leisurely strolls.
A paddle steamer ride across the lake offers beautiful views of the city's skyline and the French Alps across the water.
Lausanne's Old Town, or La Cité, is a historical gem with narrow, winding streets, picturesque market squares, and impressive architecture.
The Lausanne Cathedral, considered one of the finest Gothic churches in Switzerland, offers an incredible view of the city from its tower.
Lausanne is also home to the International Olympic Committee, and a visit to the Olympic Museum is a must for sports fans.
The museum showcases a vast collection of memorabilia, interactive exhibits, and multimedia presentations that celebrate the history of the Olympic Games and the spirit of the athletes.
4. Bern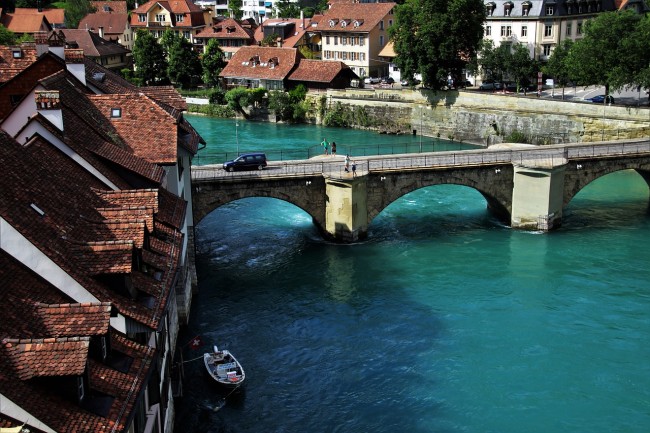 Bern, the capital of Switzerland, is often overlooked by travelers, but it offers a unique blend of urban charm and natural beauty. It is one of the best-preserved medieval cities in Europe, with a historic old town that is a UNESCO World Heritage site.
One can start exploring Bern by wandering around its Old Town, where six kilometers of arcades offer a unique shopping experience.
The Clock Tower (Zytglogge), with its astronomical clock dating from 1530, is another landmark not to be missed. For art enthusiasts, the Paul Klee Center, dedicated to the works of Swiss painter Paul Klee, is a must-visit.
Bern's Rosengarten, a beautiful rose garden with over 200 varieties of roses, offers a panoramic view of the city and is an ideal place for relaxation. The Bear Park, home to Bern's symbol – the Bernese Bears, is another delightful spot.
During summer, the River Aare becomes a hub of activity. Locals and tourists alike enjoy swimming and floating down the river, surrounded by the city's beautiful scenery. It's a truly unique way to cool down and enjoy the city!
5. Lugano
Lugano, the largest Italian-speaking city outside of Italy, is often referred to as the "Monte Carlo of Switzerland". With its charming mix of Swiss efficiency and Italian flair, Lugano offers a uniquely appealing experience.
Lake Lugano is the city's crown jewel. Nestled between mountains, this glacial lake provides opportunities for water sports, boat rides, and fishing. The promenade along the lake is dotted with subtropical plants, giving it a Mediterranean vibe. It's an ideal place for a leisurely stroll or a picnic.
The Old Town, with its Lombardy-style buildings and the stunning Lugano Cathedral, offers ample opportunities for exploration. Piazza della Riforma, the main square, is filled with cafes, making it a perfect spot for people-watching.
If you're a nature lover, a visit to Monte San Salvatore or Monte Brè is a must. A funicular ride will take you to the summits, offering breathtaking views over Lugano, the lake, and the surrounding Swiss-Italian Alps.
6. Grindelwald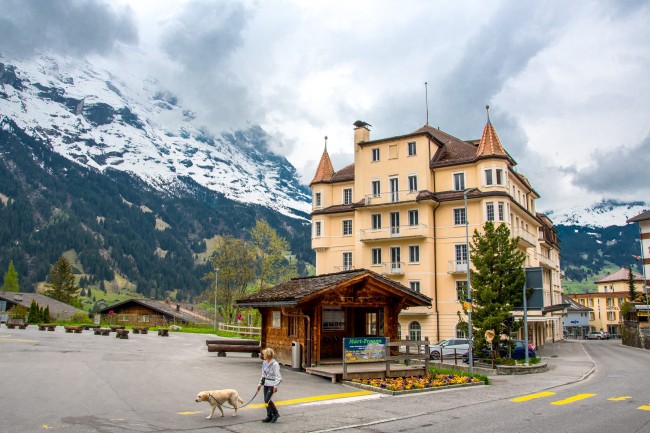 Grindelwald, in the Bernese Alps, is a paradise for outdoor enthusiasts. Known as "the glacier village", it offers stunning views of the Eiger North Face and a plethora of activities for adventure seekers.
One of the main attractions in Grindelwald is the Eiger Trail. This hike takes you close to the infamous Eiger North Face, allowing you to witness the imposing wall of rock that has challenged climbers for decades.
Grindelwald is also home to the First Flyer, an 800-meter zip line that provides exhilarating rides at high speeds. For those seeking a quieter experience, the Pfingstegg Toboggan Run offers family-friendly fun amidst beautiful landscapes.
Another major highlight is the Jungfraujoch, often referred to as the "Top of Europe". The train journey to Jungfraujoch is a spectacular experience, passing through the Eiger and Mönch mountains before reaching the highest railway station in Europe.
7. St. Moritz
St. Moritz, one of the world's most famous holiday resorts, is a top-notch destination with its shimmering turquoise lake, forests, and snow-capped mountains that provide a stunning backdrop.
Lake St. Moritz is a hub of activity in summer. You can partake in sailing, windsurfing, kitesurfing, or rowing. Alternatively, take a leisurely walk along the 2.5 km long lake path while soaking in the beautiful views.
The Segantini Museum, dedicated to the work of the painter Giovanni Segantini, is a must-visit for art lovers. For those interested in history and culture, a visit to the Engadine Museum provides insights into the regional lifestyle and traditions.
St. Moritz is also the starting point of the scenic Glacier Express train, which winds its way through the Alps, offering breathtaking views.
8. Schaffhausen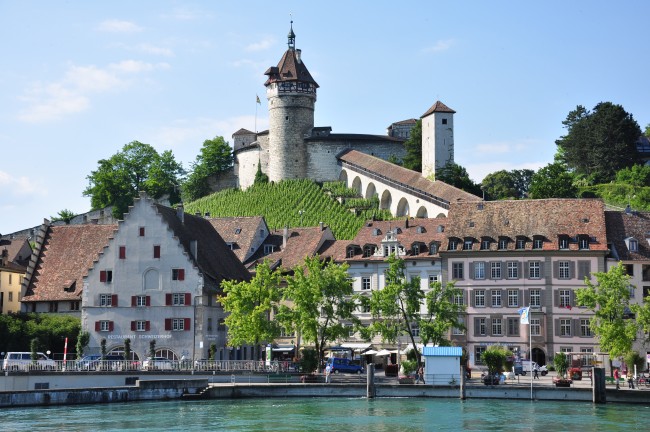 Schaffhausen, located near the northern border of Switzerland, is best known for being home to the largest waterfall in Europe, the Rhine Falls. However, this charming medieval town has much more to offer.
Visiting the Rhine Falls is an absolute must when in Schaffhausen. Especially in summer, the spectacle of these powerful falls is breathtaking.
You can watch the falls from various viewing platforms, take a boat ride to feel their power up close, or even visit the adventure trail and playground nearby for a family-friendly day out.
Schaffhausen's Old Town is another treasure. Medieval architecture, colorful facades, oriel windows, and a multitude of small shops and cafes line the narrow, winding streets.
Highlights include the All Saints Abbey, a well-preserved monastery from the Middle Ages, and the Munot Fortress, a circular 16th-century fort that offers panoramic views of the town and surrounding countryside.
The nearby Klettgau region, a wine-growing area, is a delightful place for wine tasting tours and walks through picturesque vineyards. It's an excellent way to explore local Swiss wine culture and enjoy the region's tranquility.
9. Basel
Basel, located on the Rhine River where the Swiss, French, and German borders meet, is a culturally rich city known for its museums and architectural heritage.
One of Basel's most famous attractions is its wealth of museums. The Kunstmuseum, housing a collection of art spanning seven centuries, and the Fondation Beyeler, a modern art museum set in a Renzo Piano-designed building, are must-visits for art lovers. The Tinguely Museum, dedicated to Swiss artist Jean Tinguely, is another unique spot.
The Old Town, or Altstadt, features well-preserved medieval buildings, quaint streets, and the majestic Basel Minster, a Gothic-style cathedral overlooking the Rhine.
A leisurely stroll through Marktplatz, the city's main square, offers a colorful market, the impressive Town Hall, and a host of dining options.
In summer, the Rhine River is a popular spot for swimming or floating down with a "Wickelfisch", a waterproof bag that doubles as a flotation device. It's a unique, refreshing way to explore the city and join a beloved local tradition.
10. Fribourg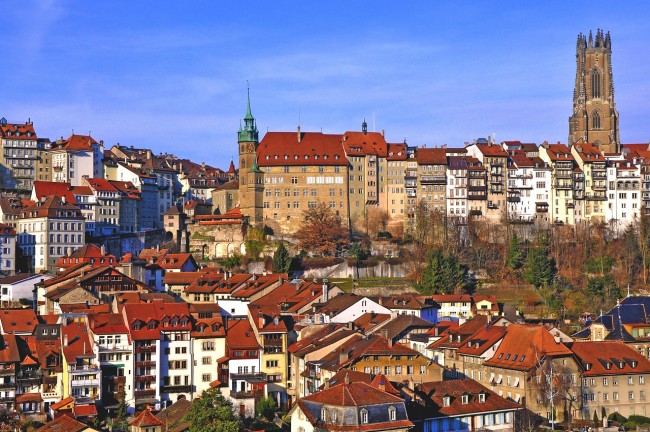 Fribourg, nestled on a bend in the Sarine River, is a medieval town that boasts a rich history and a vibrant cultural scene. Its unique location straddles the divide between the German-speaking and French-speaking parts of Switzerland, resulting in a fascinating mix of cultures.
The Old Town in Fribourg is a treasure trove of Gothic facades, fortifications, and centuries-old bridges. Key sights include the St. Nicholas Cathedral, with its stunning stained glass windows, and the 16th-century Town Hall. Don't miss the opportunity to ride the Funiculaire, a funicular railway that still operates on wastewater!
Fribourg's Botanical Garden is a serene spot for relaxation. Home to over 5,000 species of plants, it's a delightful place to wander, especially during the summer months.
For cheese lovers, a trip to the nearby region of Gruyère is essential. Famous for its cheese, Gruyère offers cheese factory tours and tastings. Combine this with the stunning alpine landscapes, and you have the perfect day trip from Fribourg.
11. Arosa
Arosa, a resort town in the canton of Graubünden, is known for its alpine beauty and a wide range of outdoor activities. Despite its popularity as a winter destination, Arosa transforms into a vibrant summer playground, making it a must-visit place in Switzerland.
One of the main reasons to visit Arosa in the summer is for the hiking. The region offers over 200 kilometers of walking trails that wind through lush alpine meadows, past sparkling mountain lakes, and up to panoramic viewpoints.
Trails vary from gentle, family-friendly walks to challenging climbs, making Arosa a hiker's paradise.
Arosa is also known for its commitment to animal protection. The Arosa Bear Sanctuary provides a home for bears rescued from poor living conditions.
Visiting the sanctuary not only allows you to observe these magnificent creatures in a natural and safe environment but also supports a crucial animal welfare cause.
Another highlight of Arosa is the Untersee Lake, a beautiful spot for swimming, paddleboarding, or relaxing on its banks. Surrounded by mountains, the lake's peaceful atmosphere makes it a perfect place to unwind.
12. Ticino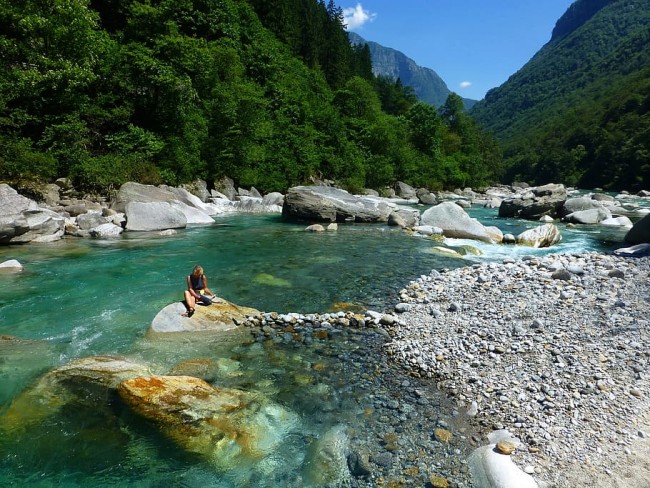 Ticino is the Italian-speaking canton of Switzerland, where Swiss precision meets Italian charm. With its Mediterranean flair, Ticino offers a unique Swiss experience.
A prime reason to visit Ticino is its charming towns. Locarno, with its beautiful piazzas, charming lakeside setting, and the annual Locarno Film Festival, offers a taste of Italian Swiss life.
Ascona, a small neighboring town, is known for its historic center, lakeside promenade, and jazz music festival.
Lake Maggiore and Lake Lugano offer plenty of water activities, from swimming and boating in the summer to leisurely strolls along their scenic promenades. Enjoy the beautiful views, charming villas, and subtropical vegetation that surround these lakes.
Ticino is also a hiker's paradise. The region boasts numerous trails through chestnut forests, along historical paths, and up to panoramic viewpoints. The Three Castles of Bellinzona, a UNESCO World Heritage site, is a highlight and a fantastic destination for a hike.
Conclusion:
Switzerland offers an array of experiences, from the charm of its cities and the beauty of its countryside to its cultural richness and culinary delights. The magic of Switzerland lies in its diversity, and there's no better time than summer to experience it in all its glory.
Whether you're an outdoor enthusiast, a history buff, or a culture vulture, there's something for everyone in Switzerland.
Also Read: