As winter's icy grasp loosens and spring's warm whispers beckon us forward, our wardrobes need to keep pace with this seasonal change. It's time to shed the heavy layers and embrace the lightness of spring, but the transition can often seem daunting.
Fear not, in this article we will assist you in seamlessly transitioning your wardrobe from winter to spring, keeping you stylish and comfortable all season long.
1. Master the Art of Layering
Layering is a quintessential strategy for weathering the fluctuating temperatures of spring. Begin with a light base layer—a cotton tee or a silk blouse works wonders. Add a layer of warmth with a chic cardigan or lightweight sweater.
Top it off with a stylish overcoat, such as a classic trench or a versatile denim jacket, easy to shed as the day warms up. Remember, the key to effective layering is to combine different textures and materials to keep your ensemble interesting.
2. Infuse Spring Colours and Prints into Your Wardrobe
As nature awakens from its winter slumber and bursts into bloom, your wardrobe should follow suit. Gradually phase out the deep, dark tones of winter and introduce lighter, more vibrant shades.
Mint green, soft lilac, pastel pink, daffodil yellow—the palette of spring offers endless possibilities. Floral prints, geometric patterns, and abstract designs also encapsulate the lively spirit of the season.
3. Pay Attention to Fabrics and Materials
With spring's arrival, heavy wools and thick cashmeres can take a backseat. Make room for breathable fabrics such as cotton, linen, and light silks that not only suit the warmer weather but also fall beautifully, adding a touch of elegance to your attire.
These lighter materials can keep you comfortable during the day and provide just enough warmth for the cooler spring evenings.
4. Prioritise Transitional Footwear
Transitional weather calls for transitional footwear. It's time to bid farewell to heavy winter boots and say hello to loafers, ballet flats, and ankle boots.
These versatile options work perfectly with the unpredictable weather of early spring. As the season progresses and temperatures rise, you can bring out the open-toed sandals and wedges.
5. Experiment with Accessories
Spring is the perfect time to play with accessories. Swap your chunky, knit winter scarves for lighter, silk ones. Brightly coloured statement pieces, like earrings, necklaces, and bracelets, can instantly lift your outfit and mood.
Don't forget about your handbags – consider a switch from the darker tones of winter to lighter shades. Reflective sunglasses are not only practical as the days grow longer, but they also add a dash of style to your spring ensemble.
6. Refresh Your Denim Collection
A well-fitted pair of jeans is a year-round staple, but spring allows for more playful interpretations of this wardrobe classic. Swap your dark, winter denims for lighter washes, or experiment with colourful denim.
The cooler temperatures of early spring are also ideal for wearing stylish denim jackets, perfect for casual outings and cooler nights.
7. Discover the Magic of Midi Skirts and Dresses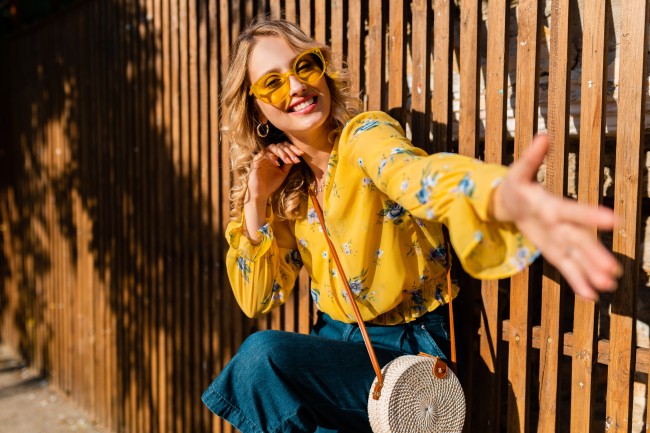 Spring is the ideal time to show off your collection of midi skirts and dresses. They are not only stylish but also practical for the in-between weather of spring.
Pair them with a light sweater or a fitted blouse for a chic, feminine look. Opt for floral prints or solid colours based on your personal style.
8. Embrace Lightweight Knits
While heavy, chunky knit sweaters are a staple in winter, the advent of spring calls for lighter knit options. Fine-knit sweaters or cardigans are perfect for the transition period when it's still cool but not freezing.
They provide just enough warmth without being too heavy. Layer them over a camisole or a light tee for a casual yet sophisticated look.
9. Incorporate Spring-Friendly Outerwear
The arrival of spring doesn't mean bidding farewell to all your outerwear. Instead, focus on lighter options like trench coats, light leather jackets, and denim jackets.
A trench coat is a classic spring choice that adds a sophisticated touch to any outfit. On chillier days, a light leather or denim jacket can provide the necessary warmth while still maintaining a spring-friendly look.
10. Experiment with Scarves
Scarves aren't just for winter. A light, vibrant scarf can be a perfect accessory for spring. Whether it's a silk scarf with a floral print or a light cotton scarf in a solid colour, scarves can add a pop of colour and interest to your outfit.
There are also various ways to style them – draped over your shoulders, tied around your neck, or even wrapped around your handbag handle for a trendy touch.
11. Update Your Activewear
With the weather getting warmer, outdoor activities become more appealing. Update your activewear to suit the season. Opt for light layers that you can add or remove based on the temperature.
Choose breathable fabrics to keep you comfortable during your outdoor workouts. Don't forget to include a stylish yet functional cap or a visor to protect yourself from the spring sun.
12. Revisit Your Swimwear
With spring in full swing, summer is not far behind. This is the perfect time to revisit your swimwear collection. Check for wear and tear and update your collection if necessary. This also gives you ample time to get the swimwear altered if required.
Conclusion
Transitioning your wardrobe from winter to spring is about more than just swapping heavy coats for light jackets. It's about embracing the vibrancy of the season and incorporating it into your style.
It involves thoughtfully curating a collection that is not only trendy but also functional and comfortable. By following these tips, you can ensure a smooth transition for your wardrobe, keeping you stylish from the last snowfall to the first bloom.
Remember, the best fashion statement you can make is one of confidence and authenticity. Embrace the change in season and let your personal style shine.
Also Read: